Air-conditioning units H-Uni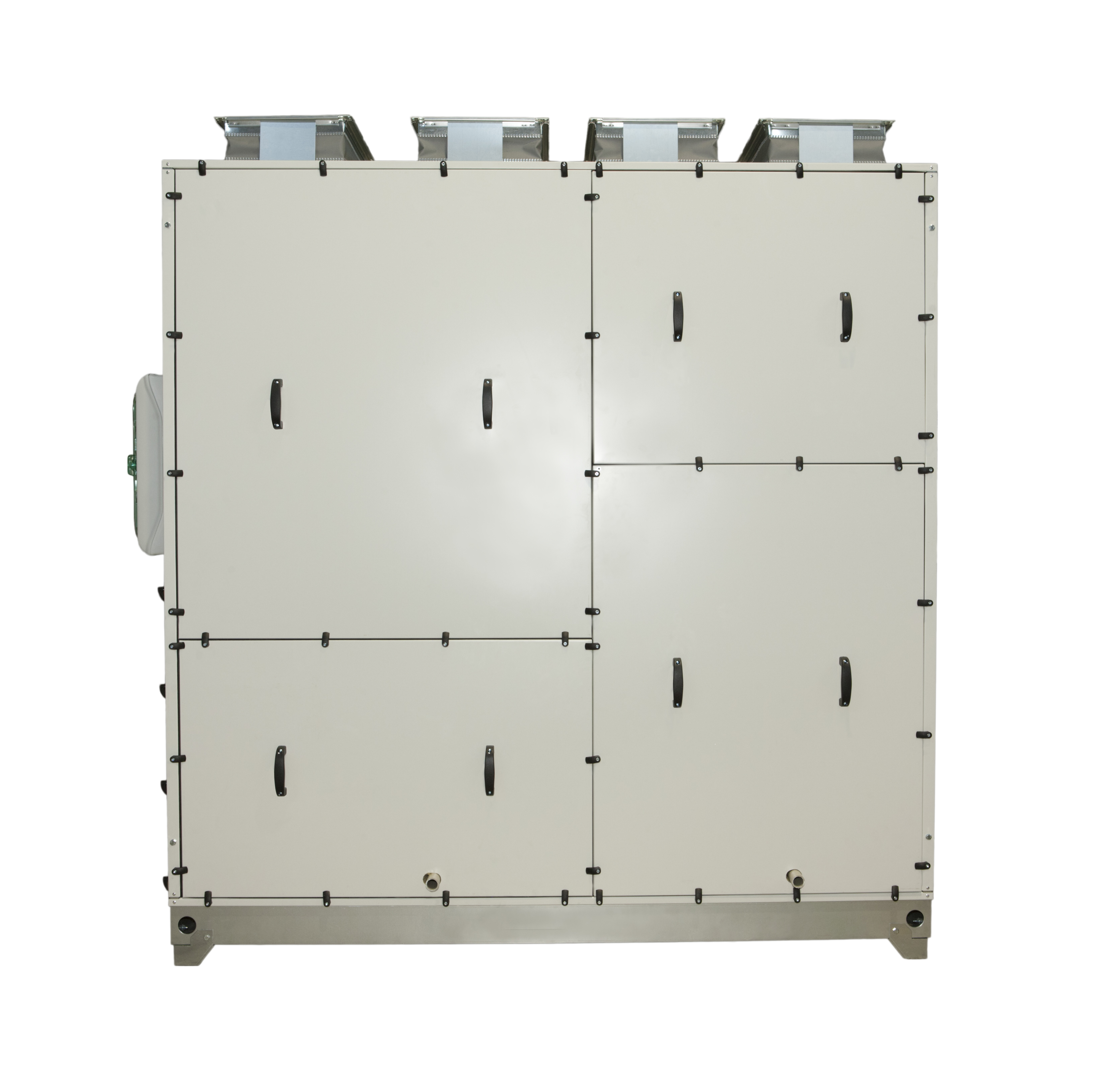 Integrated dehumidification, cooling, heating
Reversible heat pump
High recuperation efficiency
Measuring and control system
Easy installation – Plug & Play
Usage and working conditions
H-Uni air-conditioning units are compact units that provide complex optimalization of air in one unit suitable for dehumidification in swimming pool areas and for energetically balanced installations where a high efficiency plate exchanger and heat pump is used. Furthermore they are suitable in places where it is necessary to cool space but it is not possible to place the condensation unit outside, or for any other applications where easy assembly and quick placement into operation is important. The units are produced in a design suitable for inner spaces.
Structure
H-Uni units are made of frameless sandwich panels. The shell of the panel consists of two steel zinc plates with a thickness of 0.8 mm, peripherally connected by single cap rivets. The outer cover of the unit is finished in shade RAL9002 – elephant bone. Inside the panel is mineral wool insulation with volume weight 50 kg/m³, inflammability level A1. The thickness of the panel is 50 mm. The strength of the chamber is ensured by special joints registered with the Industrial Property Office in its database of industrial designs.
Description
These air conditioning units are made as one complex unit. The units are designed for installation on the floor, and are delivered with a base frame. Suction and exhaust holes are located on the upper side of the chamber and are equipped with flexible adapters with end flanges for connection to pipes. The output pipes of exchangers, service holes and fittings are located on the front and side parts of the unit. Access to ventilators, filters and frequency chargers is provided by demountable panels. It is necessary to leave a free service space in front of the unit in an area equal to 1.15 % of the depth of the unit. In front of the electricity distribution panel place on the side it is necessary to leave free space 800 mm.
H-control system of measurement and regulation
The units are equipped with the MaR H-Control autonomous controlling system. This system is easy to operate by PC and web browser. Furthermore it is possible to control the unit with a remote control via LCD display or BMS systems. Controlling and action components are assembled, connected and tested during production.
The system thus enables:
regular flow of ventilators
control and protection of water heating
control and protection of plate heat exchanger
control of flaps
signalization of air filter clogging
control heat pump compressor, including reverse operation
Functional scheme of H-Uni unit
Product documents